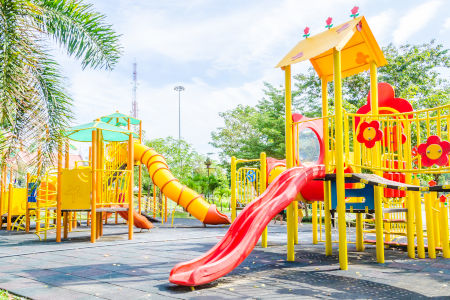 Now more than ever, it's imperative that we maintain an impeccable standard of sanitation. When it comes to our children, the most effective way to keep them safe is to get playground sanitation services for our Asbury Park play areas. By sanitizing them, we can keep our young ones safe from numerous health issues:
Cold
A flu
A stomach bug
A virus
Or worse
If you're looking for playground sanitation services in the area, you need to look to the professionals at Coastal Cleaning Crew. Our pressure washing pros put your children's health first and foremost, so you can count on us to provide quality sanitation work that will ensure they remain healthy and active.
Why You Need to Look to Us for Your Playground Sanitation Needs
When it comes to the safety and welfare of our children, we can't afford to settle for anything even a bit less than second best. That's why you need to look to us to handle all of your playground sanitation needs. We'll provide top-tier work in the following ways:
We'll get the work done in no time
We provide a thorough cleaning, no matter the size of the job
We value the health of our community's children
We Can Handle Larger Jobs thanks to Our Pressure Washing Services
In addition to our playground sanitation work, we also proudly offer other great services. You can look to us for public bathroom sanitation work (also essential these days) or routine pressure washing services. No matter what work you call our Asbury Park team to handle, you're guaranteed to enjoy unbeatable results.
Our Latest Pressure Washing Tips