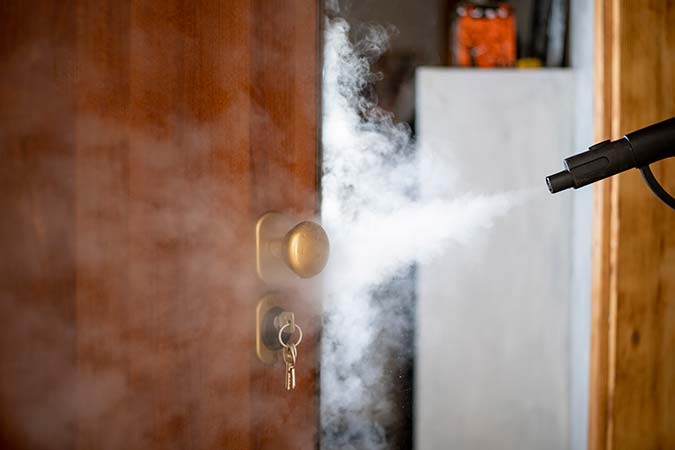 Coastal Cleaning Crew works hard to meet Eatontown area customers' current demands, which is now as much about sanitization as it is pressure washing. These days it's critical to clean and sanitize your home and commercial space with techniques like fogging for airborne sanitization.
Recently certified in this process, we're able to provide a sanitation and protection level that wasn't available before. Our fogging process helps sanitize against Coronavirus, Influenza, and smaller pathogens.
We're trained and certified to use state-of-the-art equipment to sanitize your surfaces and keep the air clean. The fog blaster process will protect you and give you the peace of mind you need during these trying times.
Fogging Sanitization Process For Safer & Cleaner Conditions
Standard commercial building cleaning is important, but it won't have the same impact as fogging. Our thorough and effective process uses a Fog Blaster that has:
Ion Charger - The power of 10 million negative ions per second
Thermal Element - Heat sanitizer for steam and then droplet conversion
Adjustment Controls - To adjust the droplet size for surface or airborne sanitization
The patent-pending Fog Blaster is designed to seek and destroy Coronavirus using nano-droplets of sanitizer. Consider this the 4th step in the fight against COVID-19.
Social distancing, PPE, and handwashing are the initial steps. However, the next part of the process in the fight against airborne contamination is fogging.
With the ability to incorporate three of the four known Coronavirus-destroying oxidizers, Fog Blaster is the most effective and efficient equipment for sanitizing in the fight against Coronavirus.
Making The Community A Healthier Place
As part of our effort to help make our area and the world around us a safer and healthier place, Coastal Cleaning Crew offers service using an electrostatic airborne sanitizer. We still offer cleaning and disinfecting for exterior surfaces with our pressure washing; we've just been able to expand our sanitation horizons.
Although the information is continually changing about what we know about Coronavirus, we know that it can survive on particular surfaces for as long as three days. To have a better chance against contracting COVID-19 and helping minimize the likelihood of spreading it, it's time to take action.
Our methods can reach surfaces that would otherwise be left exposed and compromised.
There's no room for error when dealing with this pandemic or the aftermath to follow. Please make your appointment for fogging today as spaces are filling up fast, and we want to be able to take care of your Eatontown home or business.
Our Latest Pressure Washing Tips