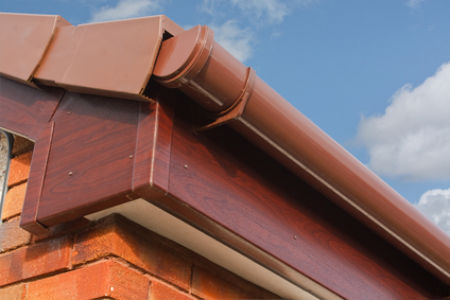 One of the most common reasons homeowners neglect their gutter cleaning is that it's "out of sight, out of mind." Professional cleaning for gutters should take care of the interior and exterior, so it does impact the curb appeal, but not as significantly as a task like commercial building cleaning.
However, the benefits primarily come from getting your gutters cleaned out so they can flow the way they're supposed to when it rains. Ignore the need for gutter cleaning for too long, and you're going to have a big problem on your hands. Let's look at some of the reasons why you need to schedule an appointment with a reliable pressure washing company for your gutters right away.
Can I Pressure Wash My Gutters?
The short version of the answer to the question, "Can I pressure wash my gutters?" is Yes. However, what that really means is that you should hire a power washing company that uses the appropriate technique for gutter cleaning, which may be soft or pressure washing, depending on the age and condition of your gutters.
Pressure washing for gutters can be highly effective when used by trained and experienced industry professionals. Some of the benefits of this method are:
Remove stubborn stains
Blast away grime build-up
Get rid of clogs/blockages
Make sure gutters are flowing
Safely clean without the need for ladders in many cases
Plus, by hiring a professional power washing company, you'll be able to clean inside and outside your gutters.
What you don't want to do is attempt to turn this into a DIY project. Using a power washer without formal training or supervised experience isn't ideal, no matter what the cashier at your local hardware store says. There's a higher risk of bodily injury or property damage from DIY pressure washing than most people realize.
Hire The Crew That Cares
At Coastal Cleaning Crew, we've earned a reputation for excellence that we're proud of. Call us for your pressure washing services for the best gutter cleaning in Jersey Shore.
We look forward to partnering with you and showing you why we have the impeccable reputation we do. Exterior cleaning is so vital for your property, but make sure you pick the right team to tackle the job.
Our Latest Pressure Washing Tips