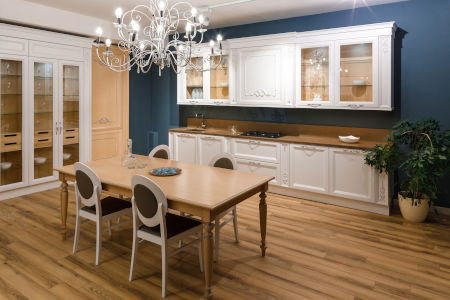 A chandelier can make your Asbury Park home look its absolute best, and to ensure you continue to enjoy this installation's aesthetic qualities, you need to invest in regular chandelier cleaning work. By having your chandelier cleaned on a routine basis, you're guaranteed to enjoy these essential qualities for many years to come:
Elegance
Value
Better lighting
Greater home appeal
If you're ready to invest in a professional chandelier cleaning, you need to look to the pros at Coastal Cleaning Crew. That's right: Our pressure washing pros are also pros at keeping your chandelier looking simply stunning, no matter what condition it might otherwise be in. Call us today if you're ready to schedule a cleaning.
Reasons to Have Your Chandelier Professionally Cleaned
Yes, you could clean your chandelier yourself, but before you decide to take on the task yourself, you need to consider whether you have the time and tools needed to handle it. If you don't believe you do, don't worry: We do. By handling your chandelier cleaning, we promise to . . .
Maintain its appearance
Prevent dust from causing issues
Keep it from losing its value
Ensure you always get the best lighting
Quality Work from Our Jersey Shore Pressure Washing Professionals
You don't need to wait for the odd chandelier cleaning to give our Asbury Park team a call. After all, we also offer a variety of pressure washing services to keep your home looking its best. Whether you're in need of a gutter cleaning, window cleaning, or related job, you can count on us to provide quality results in little time.
Our Latest Pressure Washing Tips