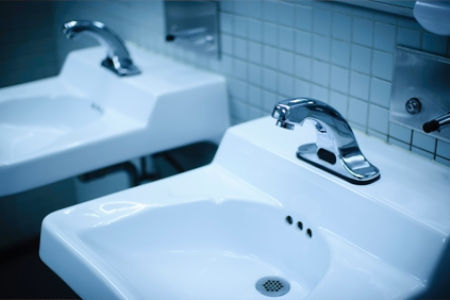 Many people use your public bathroom every day. As a result, these facilities can become unsanitary in a very short amount of time. If the bathroom is dirty, none of your employees, visitors, or clients will want to use it. The health department may also choose to close your business depending on your facility type. Our pressure washing cleaning team offers the following reasons why it is so important to clean and sanitize your public bathroom regularly.
Clean Public Bathrooms Are Hygienic
Routine maintenance and disinfection keeps public bathrooms clean and hygienic. People will be able to use the public bathroom without dealing with disgusting smells and grimy appearances.
Reduction of Disease Transmission
In this day and age, it should be no secret that anyone using your public bathroom will expect it to sanitized. Thoroughly and consistently sanitizing your public bathrooms will remove germs and other pathogens from the area, in turn reducing the spread of dangerous diseases. COVID-19 is a most recent example of a virus that can be passed from person to person when someone who has the virus touches bathroom surfaces. Consequently, public bathrooms remain damp enough for viruses, germs, and other pathogens to grow and thrive in sinks, toilets and counters.
Protects Your Business Reputation
Applying good hygiene practices to your public bathroom will safeguard your company's reputation. All aspects of your building or property reflect your visitors opinion about the image of you and your company. Unless you make sure everything is clean, attractive, and healthy—including public bathrooms—your overall reputation will take a negative turn.
Helps Your Public Bathroom Stay In Tip Top Condition
Another reason why good hygiene is important in public bathrooms is that it helps to keep everything in good condition. Dirt, mildew, mold, and other harmful substances can contaminate toilets, sinks, floors, and other areas of your public restroom, causing extreme deterioration.
To learn more about the importance of keeping your public bathroom sanitary, contact the professional cleaning team at Coastal Cleaning Crew. We also offer playground sanitation that will keep your family and little ones safe.
Our Latest Pressure Washing Tips